Bloguin Heisman Poll Week 1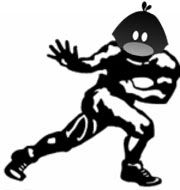 The College Football Season is upon us and with that we are ready to start up the discussion for which player will take home the coveted Heisman Trophy. Last year the duties of running the Bloguin Heisman Poll were handled admirably by Matt Yoder but this year he has passed the torch to the Zealots of College Football. I realize it's a little bit early to start the Heisman discussion but this is college football, where pre-mature assessments and discussions are an annual tradition. So buckle up, let's talk college football and let's talk about the best players in week one...
Here is what you'll see each week in the Bloguin Heisman Poll:
-The Top 5 total vote getters and quotes from bloggers in support of their candidates.
-A list of all players that receive votes in the Bloguin Heisman Poll
-Poll Notes that look at some of the interesting facts, figures, and trends of the poll.
-The BHP Roll Call of voters, the links to their respective blogs and their twitter accounts.
Without any further adieu, the Bloguin Heisman Poll...
1) Robert Griffin III (QB-Baylor) - 32 Points, 31.07%, 8 1st Place Votes
Last Week: 21/27, 359 yards, 5TD; 38 rush, 1 Rec. This Week: Idle
*Whether RG3 takes off in the Heisman race long term remains to be seen. But, there's no question the Baylor quarterback had the most impressive individual performance in Week 1 as he tore apart TCU's defense to the tune of over 350 yards passing and 5 TDs.
- Ryan Yoder, Awful Announcing
*I knew TCU was going to be a bit of a question mark, but Baylor's dynamic quarterback exploded all over the Horned Frogs for 359 yards while completing 77.8% of his passes. It was the first time TCU has allowed 40 points to be scored against them since 2005 and I'm not sure why TCU seemed so unprepared for Griffin. I still want to see RGIII play well against the better competition later in the season before he becomes a legitimate favorite for the Heisman, but his week one performance against TCU certainly merits recognition this week.
- Kevin McGuire, Nittany Lions Den
*What player had a more dynamite performance in Week 1 than Griffin? He led Baylor to 50 points against what has traditionally been a formidable TCU defense, racked up 387 yards of total offense, 5 touchdowns, and even led a mini-comeback after what would have been an epic collapse. He even had a new catchy nickname forced upon America (RG3), which is what any good Heisman candidate needs.
- Matt Yoder, Awful Announcing
2) Kellen Moore (QB-Boise St) - 18 Points, 17.48%, 3 1st Place Votes
Last week: 28/34, 261 yards, 3 TD; This Week: Idle
*Chris petersen's adjustments in the second half against Georgia put the onus on his quarterback to knife up the bulldogs defense with a precision passing game. Moore delivered in yet another big win for Boise.
- Alan Kenney, Blatant Homerism
*Moore picked right up back with his surgical precision in 2011. He hit 28 of his 34 passes for 261 yards and 3 TDs in the win over Georgia. Moore hit 71% of his passes last season. With Boise already in the top 10, Moore could find his way to New York.
- Scott, Bearcats Blog
3) Andrew Luck (QB-Stanford) - 14 Points, 13.59%, 3 1st Place Votes
Last Week: 17/26, 171 yards, 2 TDs; 9 rush. This Week: at Duke
*Luck had a pretty average game for him (17-of-26 passing for 171 yards and two touchdowns), but he enters the season as the favorite and a solid game against a weak opponent is enough to keep him on top for now. As long as Stanford keeps winning and Luck plays well all season he'll be tough to bump off the top spot.
- Tom Perry, Eye and Eer
*Luck starts the season on top in my poll. He could be playing every Sunday if he wanted to but he decided to come back. He didn't disappoint in his first game a blowout win over San Jose. He finished the night with 171 passing yards and two touchdown passes. Even though it's only week one, the Heisman is probably his to lose.
- Ian Bethune, Sox and Dawgs
4Tie) Russell Wilson (QB-Wisconsin) - 9 Points, 8.74%, 1 1st Place Vote
Last Week: 10/13, 255 yards, 2 TDs; 62 rush, 1 TD; This Week: Oregon State
*An absolutely amazing performance in a new home. If he continues to grow and mature in the offense in any meaningful way, he will be a force to be reckoned with throughout the season.
- Ell, Bama Sports Report
*Wilson looked fantastic in a very efficient dismantling of UNLV on college football's first night on Thursday. He went 10 of 13 for 255 yards and two touchdowns and no interceptions. He also rushed for 46 yards and a touchdown. With performances like that, Wisconsin should be hovering around the nation's top teams for most of the season and Wilson could be a legitimate threat to win the award at season's end.
- Kris Brauner, Saturday Night Slant
4Tie) Landry Jones (QB-Oklahoma) - 9 Points, 8.74%, 1 1st Place Vote
Last Week: 35/47, 375 yards, 1 TDs; This Week: Idle
*In any Heisman Predictor Poll, you not only have to analyze the individuals and their accomplishments, but also the team and their outlook for success. First man up is Landry Jones from Oklahoma. With an above average first game (375 yards and 1 TD passing), a decisive decision against Tulsa, and the #1 ranking, all makes for a pretty easy start to the poll.
- Hamilton Riley, Lambeth Field
5) Robert Woods (WR-USC) - 7 Points, 6.80%, 0 1st Place Votes
Last Week: 17 rec, 177 yards, 3 TDs; This Week: Utah
*While USC's 19-17 victory over Minnesota was much closer than anyone expected, Woods' performance is worthy of a week one mention in the Heisman poll. He caught 17 passes for 177 yards and three touchdowns. With Matt Barkley throwing his way it's possible Woods could put up big numbers all season. For good measure, he also returned three kickoffs for 73 yards. Will he remain in the Heisman race? Probably not, but what a great game.
- Tom Perry, Eye and Eer
Also Receiving Votes: Dominique Whaley (RB- Oklahoma) 3 pts, Brandon Weedon (QB- Oklahoma State) 3 pts, Ryan Broyles (WR- Oklahoma)- 1.5 pts, Tyrann Mathieu (CB- LSU) 1 pt, Marcus Lattimore (RB- South Carolina) 1 pt, Danny O'Brien (QB- Maryland) 1 pt, Case Keenum (QB- Houston) 1 pt, Brandon Herron (LB- Michigan) 1 pt, Kendall Wright (WR- Baylor) 1 pt, Justin Blackmon (WR- Oklahoma State) 0.5 pt
Poll Notes
- 6 different players received first place votes. All of them play QB.
- Out of all players receiving votes 8 play QB, 4 WR, 2 RB, 1 CB and 1 LB.
- Half of the players that finished in our Top 6 will be idle next week (Kellen Moore, Landry Jones and RG3). So we could see a signficant change in the poll next week (which should be normal for this time of year).
- We have two defensive players in our poll. The last time a defensive player won the Heisman? Charles Woodson of Michigan in 1997. Before that? Does Ernie Davis of Syracuse count (he also played LB).
- Only QBs received first place votes. QBs have won 9 of the last 11 Heisman Trophies.
- 4 WR made the cut. The last time a WR won the Heisman? Desmond Howard in 1991.
- Notre Dame and Ohio State lead the way with 7 Heisman Trophies per school. Total Notre Dame and Ohio State players in our initial poll? None.
- The second runner-up for the 2010 Heisman Trophy, RB LaMichael James of Oregon, is noticeably absent because of the LSU defense. Will he be able to rebound and make a run at the Trophy?

Bloguin Heisman Poll Roll Call
Awful Announcing- Matt Yoder (@myoder84)
Awful Announcing- Ryan Yoder (@RYbbc34)
Bama Sports Report- Ell (@ellbama)
Bearcats Blog- Scott (@bearcatsblog)
Blatant Homerism- Alan Kenney (@blatanthomerism)
College Football Zealots- Kevin (@CFBZ)
Eye and Eer- Tom Perry (@eyeandeer)
In The Bleachers- Michael Felder (@InTheBleachers)
Lambeth Field- Hamilton Riley (@lambethfield)
Leftover Hot Dog- Ritch (@LOHDgamecocks)
Nittany Lions Den- Kevin McGuire (@TheNLD)
Saturday Night Slant- Kris Brauner (@snslant)
Sox and Dawgs- Ian Bethune (@soxanddawgs)
Sun's Stuff't- Jamie Gilkey
Tetreault Vision- Joe Tetreault (@JoeTetreault)
The Blue Turf- Darth Prophet
The Duck Stops Here- Dale Newton (@Dale_Newton)